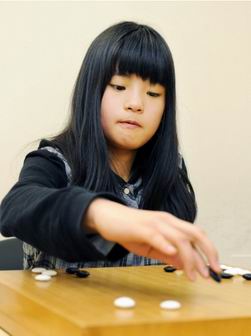 The youngest-ever professional player in Japanese Baduk history is about to emerge at the age of 11 years and 6 months. Fujisawa Rina (11 years old), a 5th grade elementary school student in the Shinjuku district of Tokyo in Japan, passed her pro exam on Feb. 6th. She will make history when she becomes the youngest person in Japan to ever be inducted as a professional player. Ms. Fujisawa confirmed to quality as she took the 1st place with the results of 6 wins and 2 loses in the league for the women's section of the Japanese Go Association qualification system in which 9 applicants participated.
Ms. Fujisawa, who is a granddaughter of Fujisawa Shuko 9p, will become legally professional on Apr. 1st after the official process. She broke Cho Chihun's record after 42 years since it was set in 1968 when he became professional at the age of 11 years 9 months.
Among female players, Xie Yimin, who is holding Women's Kisei, Women's Honinbo and Women's Meijin all together now, has had the record of becoming professional at the age of 14 years and 4 months but this record was also broken.
Ms. Fujisawa, who finally passed her pro exam after her third challenge, said, "I have wanted to become professional when I am an elementary school student. I am happy. When I was defeated twice, I have thought it was impossible. I played the games with confidence and determination to become professional. I want to work hard with the aim for winning women's tournament titles."
Ms. Fujisawa began learning Baduk when she was 6 years old and who taught her at that time was her grandfather, the deceased Fujisawa Shoko and the honorary Kisei. Her father is Fujisawa Kazunari and he is also a professional baduk player. The three generations continuously became professional. (Picture produced by the Japanese Go Association)
- Kyungdong Kim, Cyberoro.com