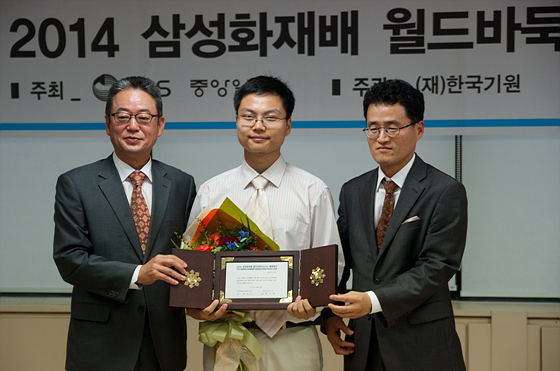 Michael Chen amateur 6Dan is No.1 in the world group.

Michael Chen from America won against Jang Shang from Singapore and got into the round 32 of the 2014 SamSung Cup.

This world group has been made for enlarging Baduk popularity in the world. Only America and Europe have attended last year but Asia and Africa has been added and seems to be improving every year.

Even though more players from many countries have been attended, the winner is from America again.
Michael Chen was appreciate for sponsor of the SamSung Cup for giving the opportunities to be here.

- When did you learn Baduk?
When I was 7, I learned it in China and I moved to America when I was 11. After that, I myself improve my level by internet Baduk. I also got lessons from PengYun 9Dan when my level was about 1~2Dan. I think I improved a lot at that time. 8

- What level are you in America?
I am 8Dan, and 8th rank in rating system.

- What game was the most difficult game for you?
It was the first game against South Africa. I think I got too much tension before it.

- What is your impression about Korea?
I have been here once when I had a friendly match. I can eat Korean food well now, and I am very impressed with subway system. It is very clean and fast and I can go anywhere with it.

- America seems to be better than Europe. What is reason?
I think there are a lot of Chinese, Korean, and Japanese which means a lot of Asian people live here in America. But compared to America, I think there are fewer Asian people in Europe.

- Who do you want to meet with in the final?
Lee SeDol 9Dan. He is the No.1 and I love his style.

- Do you think you can win against Lee SeDol 9Dan with three stone handicap?
I think I can win but not easily. But I think my winning rate would be 20% with two stone handicaps against him.



- What is your goal now?


Only one game to win.