Park 9p stopped the Chinese team from breaking the record and gave first win to a Korean team
in the second main match of the 20th of the World Baduk Competition, NONGSHIM SHIN RAMYUN, Park 9p won him by resignation in just 183 moves and blocked eight consecutive wins of Fan Tingyu. The most winning streak in competition is seven consecutive wins which Fan Tingyu only made.
Park 9p was not mentally easy, as all of his team members lost, and Fan Tingyu 9p was comfortable even if he lost and had confidence thanks to consecutive wins.

The opening of the game was uneasy. Park's movements were not light when he was attacked from the left side. Though it was not desperate, he would have been dragged through the whole game if this pace was maintained. After exerting concentration, Park's succeeded in breaking through while reducing damage.
However, owing to the aftereffects of defense instability, Fan Tingyu 9p got a leading authority of middle game. then he attacked Park's big group in the lower right side.
attacking is an exciting but very careful part. Fan Tingyu 9p was a little excited. Fan Tingyu failed to control his attack while Park 9p succeeded in defending.

Park 9p was starting to lead the right side which Fan Tingyu 9p got leading authority and then Fan Tingyu 9p finally resigned. Park 9p who blocked Fan Tingyu 9p when he was winning consecutive 7 wins prevented Fan Tingyu 9p from breaking the competition record.

Park 9p also balanced his opponent's match by six wins and six losses.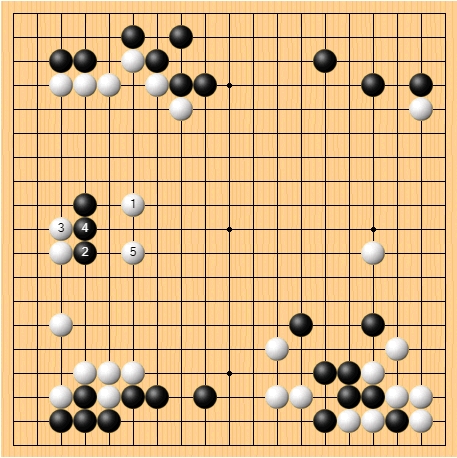 when Fan Tingyu 9p was playing a capping move with white 1, The question was what strategy to respond to. in an actual game, Park 9p(black) was attacked strongly like this picture.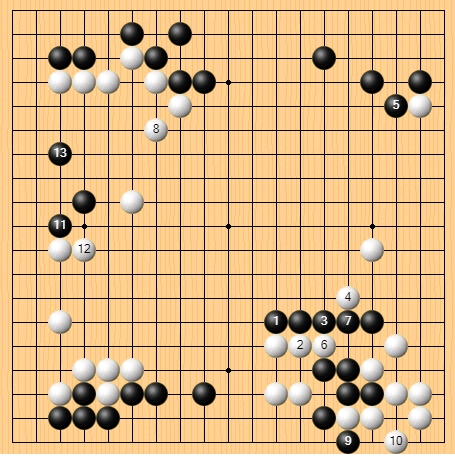 This picture is a reference drawing of artificial intelligence. AI suggests that Black should once leave the left side and attack the bottom first with Black 1. Black can flexibly cope with the movements of white. When white extend territories with white 8, Then black moves as 11, 13.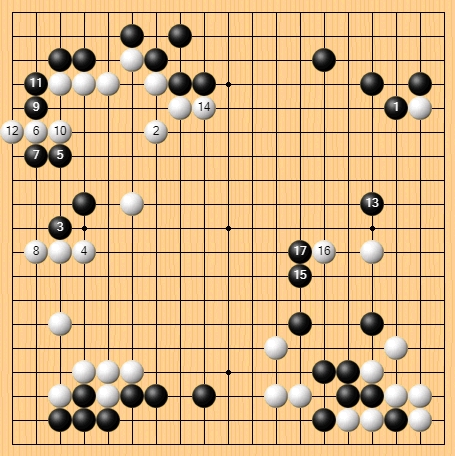 It is also a good idea to play black 1. It is a similar strategy that considers the left side to be light. After that, Black plays black 9, 11 to sacrifice the left side and moves flexibly by getting some advantages from surroundings.