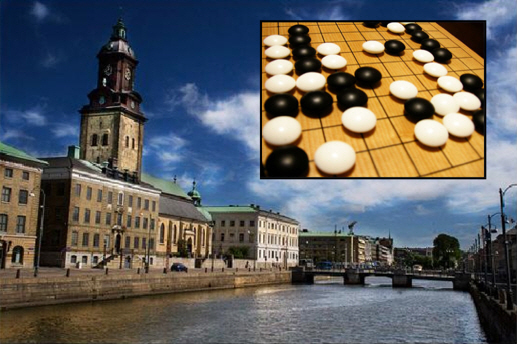 Welcome to Gothenburg 4-6 November!

The 27th Annual Gothenburg Open Go Tournament is a friendly and relaxed go tournament held in Gothenburg, the second largest city of Sweden. It is one of the largest tournaments in Scandinavia. It has a low entry fee, free lodging and free lectures. There are lots of cheap flights to Gothenburg's two airports, or you can go by boat or by train - see the page Getting here.
Gothenburg open 2011 is a Major European Go Tournament and part of the European Cup 2011 at level 4. This means the top players will receive in total 40 EC-points.
The tournament is open to all players who wish to participate. It is a five-round standard McMahon tournament with a thinking time of one hour each and a byo-yomi of 5x30 seconds. EGF rules apply.
A tournament teacher will be present who will be giving game reviews to all who wish and lectures in the evenings.
Preliminary schedule

Note: this schedule is preliminary and exact times may change.
Free coffee and tea is available throughout the tournament.
Friday, November 4th
From 16:00 We welcome arrivals from abroad
19:00 Lecture
21:00 Small Blitz, 9x9 or Rengo tournament
Saturday, November 5th
10:00 Registration
10:45 Pairing
11:00 Round 1
14:00 Lunch
15:00 Round 2
18:00 Round 3
21:00 Lecture
Sunday, November 6th
10:00 Round 4
13:00 Lunch
14:00 Round 5
17:00 Prize-giving ceremony

Registration