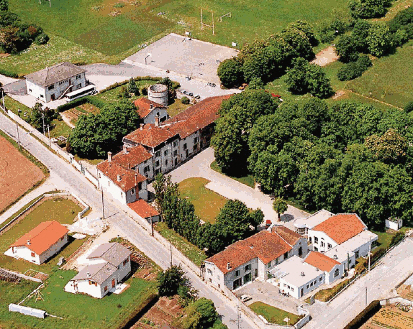 tournament venue
The Lyon International Go Tournament will take place, as last year, in the Maison Familiale et Rurale, in Balan, on the 15th and 16th october.
Proud of having an international tournament, we expect to host the top European players, especially to answer to the challenge Man vs IA, and play against MoGo.
The Lyon Go Club will take the opportunity of the event to initiate all newcomers wishing to learn the game.
On saturday evening, we propose to you a happy and dancing party, with the show of La Compagnie de la Chanson Sommaire.
We hope welcoming you in crowds to play go, in different ways, and have a good time near Lyon!
Adresse du tournoi : Maison Familiale et Rurale de Balan
53, rue Centrale - 01360 BALAN

Contact : goclublyonshinogi@yahoo.fr

5 rounds
Top group : Mac Mahon à égalité
Système : Mac Mahon handicap -1
Règle française, komi 7,5 points
1 heure / joueur + Byo Yomi 15 pierres / 5 mn
Tournoi non fumeur
Départage nombre de victoires, SOS, SOSOS
schedule
Saturday, 15th October:
13:00 : End of registration
13:30 : 1st round
16:30 : 2nd round
after dinner : 3rd round

Sunday, 16th October:
9:30 : 4th round
13:30 : 5th round
16:30 : Closing ceremony
how to get there:
by train
From the Lyon central station La Part-Dieu take the train destination Montluel, which takes 20 minutes and costs 5.50 euro, LYON - AMBERIEU - CHAMBERY way, stop at MONTLUEL station. The Montluel station is at 2 km from Balan (see map). For those coming from Lyon on Saturday, you'll certainly want to take the train which leaves Part-Dieu at 12:12 PM and arrives at 12:37 PM at La Valbonne. We'll fetch you there. Look for go players when you arrive !

by plane
The Lyon international airport Saint Exupery is at 20 min by car from Balan. Taxi costs approximately 60 euros (night fare applicable from 7 PM).

other
The organising team will welcome the players in Balan from Friday at 6:00pm.
If you need to be picked up at the station or at the airport.

accomodation
arrival friday

Available for everybody
Dinner buffet
Dormitory 5-8 beds
Breakfast
Lunch buffet

arrival saturday

Regional Dinner
Dormitory 5-8 beds
Breakfast
Lunch buffet

Click here for more information