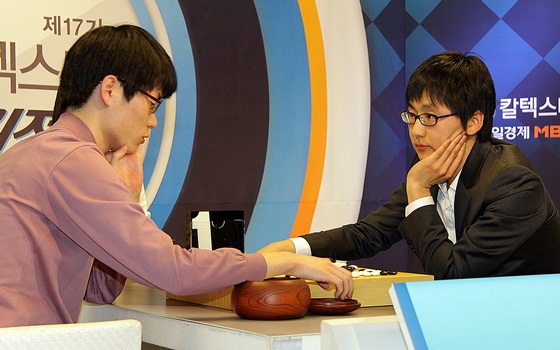 " If black answers somewhere, I thought it was profitable for me. White also should have played in the center first. I tried to read the variation while playing on the upper side, but I thought it was ok if there is no profit for me. – When Kim JiSuk was asked about feeling of the variation on the upper side.


Kim JiSuk 7Dan won against Kim KiYong 6Dan in the 17th GS Cup held 26th of January.
Kim JiSuk studied before about long variation with pae in the beginning. It was good for him in the right corner as he thought. The position was better for him but he finished the game by invading on the upper side, and destroyed all.

The variation on the upper side was difficult for all players and time was not enough for both. But Kim JiSuk felt something there and decided the game by it.
Kim JiSuk 7Dan said so far, I helped others to win this Cup, but his time will be different. The next opponent is Jo HandSeng 9Dan who is having very good results these days, I expect it and will prepare as my style