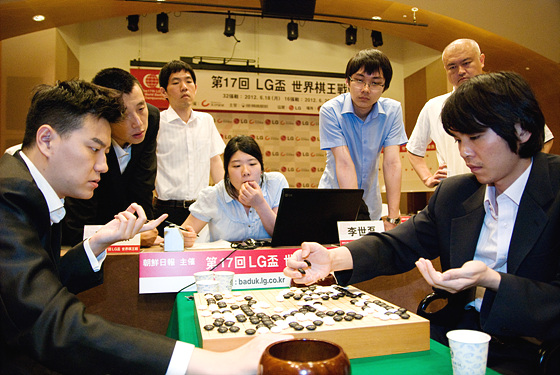 satisfying victory for Korea.

10 Korean players played in the first round of the 17th LG Cup, and 9 Korean players got victory in the first round.

Rank 1 in Korea Park JungHwan, double Lee " Lee ChangHo and Lee SeDol, Choi ChelHan, Won SungJin, Kang DongYun, Lee YoungGu, Choi KiHun, Na Hun won against Chinese players. Only Park SeongHwa lost against Guli from china.

The previous record was 7 to 7 between Lee SeDol and Kong Jie, but by this win Lee SeDol is ahead by one game. And Lee ChangHo won against Lu Xing by resign.

Na Hun got delightful win against Dang WeiFei who showed unbelievable results in the last BC Cup.

China had to see Tan Shao, XieHe's failure who are rank 1 and 2 in China. And also Kong Jie, Lu Xing's lost was also painful for China. But China still shows its great outline of players GuLi, Jang WeiJie, Shi Wue, Peng Liyao, Li EnShao, Li Cang.

Meanwhile, Jang Shi, Yoda, Yuki Satoshi, Sakai 4 players from Japan lost agsint Chinese players.
The only one player from Taiwan Shao JungHao won against Jeu HeYang and stepped to the next round.
Let is see who will be next hero in the 17th LG Cup.