SHIN Jinseo 9P could not get over the KE Jie.
In second round of the 4th Baeknyeong Cup final held at the Hilton hotel in Anshun, Guizhou, China on January 17th, KE Jie 9P won SHIN Jinseo 9P by resignation in just 162 moves and got the title by a record 2-0, KE Jie became the second champion in the Baeknyeong Cup and set a total of seven wolrd championships.
SHIN Jinseo 9P lost to CHEN Yaoye in the final of the Cheon Bu Cup and KE Jie in the final of the Baeknyeong Cup, failing to win the world tournament in succession. The SHIN Jinseo's relative record with KE Jie widened with two wins and six losses.
Cyberoro commentator LEE Jihyun 9P said "in the opening, proving move of 39 was bad because Black was rebelled by white. After that, in the center's tight match, he mistook in the reading and he compromised until 70 moves, but it was the result of the failure of the black. it was endgame with KE Jie's clean finish." KIM Jiseok who is watching this game said "I felt like he was in a bit of a hurry to win. The effect of the reversal of the first game seemed to remain. There is also something to regret in the content."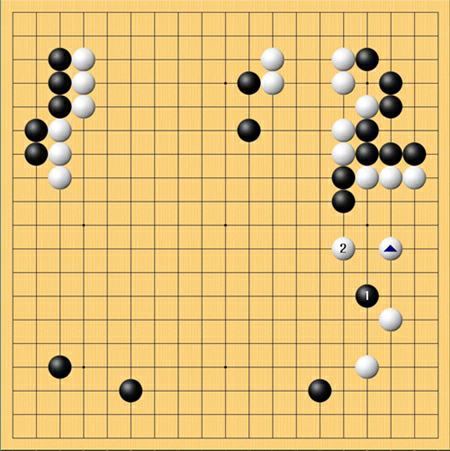 In the picture, Black 1(proving move) is actual move 39. The flow became a bad because of resistance white 2." - LEE Jihyun 9P.