From 14th to 18th, The International Mind Sports Association(IMSA) World Masters Championship 2019 Go category held at Agile Hotel in Hengshui, Hebei Province, China, Korea got gold medals in women's team event and mixed fair, silver medal in men's team event. So, with total 2 gold and 1 silver, Korea won the overall competition beatting out China.



In the Mixed fair, which has a direction of the overall win, Shin Jinseo 9P and Choi Jeong 9P won Mi Yuting 9P and Yu Zhiying 6P in the quarterfinals on 16th.

After that, They won Wang Yuanjun 8P and Hei Jiajia 7P in the semifinals on 17th and Rin Rishang 7P and Bai Shinhui 1P in the final on 18th.
Award Ceremony about Women's team event.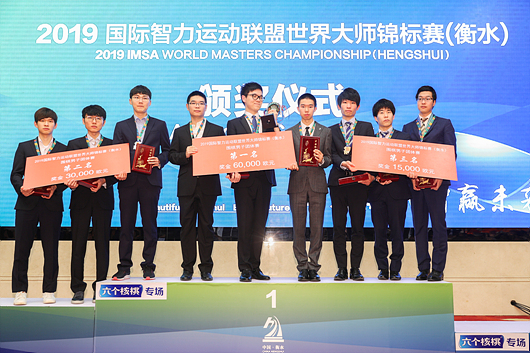 Award Ceremony about Men's team event.
Hosted by IMSA, the IMSA World Masters Championship 2019 competed for medals in 17 categories in five sports-- Baduk, chess, bridge, checkers and chinese chess.
In the Go category, 30 players from four countries including Korea, China, Japan, and Taiwan and two continents including North America and Europe participated in the men's and women's team competitions and mixed fair competitions.